I've told the story about blaming Boo for getting me involved in this crazy business (and I thank him every chance I get). If you missed it the short version is in 10th grade Boo started coming to my school. We hit it off great. That spring he was putting together a band for the school talent show. I was talking to him about it and he asked "you play piano, don't you?" I had taken lessons in elementary school. "Not like that!" I assured him. "I'll teach you what you need to do." That was it. Within a month or two we had a band "SHAKEY KID" which had a good 2 year run playing all the cool places a high school band could play in Montgomery.
Here's Shakey Kid in 1975 at Skate Haven on the Atlanta Highway in Montgomery, AL. From left to right Charles "Boo" Edmondson – guitar and vocals, Wes Sullivan – drums, Paul Barsom – bass and vocals; Me – guitar, keyboard and vocals.
Note: We're not all left handed. The picture was developed backwards or upside down or something weird.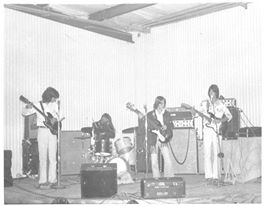 Notice all the equipment. I think we borrowed gear from everybody we knew whether we needed it, knew how to use it or not.
I'd really like to know more about you. I know most of the mail list names, but I'm missing important pieces like where are you from? how old are you? how did you find me? what was the first concert you ever attended? anything that makes you special (I know there's something – even if you think it's silly)? anything you'd like to know about me?"
I appreciate our connection. I appreciate your support. Thanks so much!
Russ